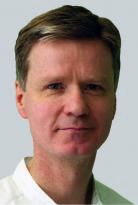 Vincent started practising osteopathy in 1992, after graduating from the British School of Osteopathy, London. Later he went on to train with the National Sports Medical Institute in sports injury management.
Unresolved spine and limb injury specialist
Vincent's special area of interest is in treating unresolved injuries affecting the spine and limbs. This interest came about after receiving treatment from osteopaths and physiotherapists for back and neck injuries sustained in his teens and early twenties.
"During my career as an osteopath I have become aware of how difficult it can be to resolve strains and injuries to the body, especially when they have been there for any length of time. However, acute conditions, if treated and managed properly, will often resolve much more quickly."
The VJ Barnes Osteopathy Clinic approach
Vincent has devoted his osteopathy career to finding the most effective treatment methods to treat his patients. He has studied and assessed the effectiveness of all appropriate treatments practised in manual osteopathy therapy today, and with the help of his associates has developed a unique osteopathic approach to treat acute and unresolved injuries.
Osteopath Beckenham, Bromley and South London
The VJ Barnes Osteopathy Clinic is established in Beckenham, and serves patients across the Bromley Borough, South London, and Kent.
The VJ Barnes Osteopathy Clinic is committed to finding the best treatment solutions for your physical problems.
Book a treatment